We are pleased to announce our upcoming four-day educational course in Laminar fMRI.
This course will provide an introduction to fMRI of cerebral cortical layers, and will provide didactic lectures spanning neuroscientific background, high-resolution fMRI data acquisition and analysis, interpretation, and publication, focused on the practicalities of conducting a successful experiment, as well as hands-on training in AFNI data analysis. It is designed for beginners who are new to laminar fMRI, however researchers at all experience levels are welcome!
Where: Athinoula A. Martinos Center for Biomedical Imaging, Massachusetts General Hospital (MGH), Boston, MA, USA.
The course will be offered in-person, onsite at MGH, however there is a remote option available. Organizers are committed to give remote attendees ample opportunities to post questions and interact with course participants and faculty. This includes Zoom QnA, dedicated Slack channels throughout the courses etc.
When: October 2-5, 2023
Course Faculty: Peter Bandettini, Anna Blazejewska, Saskia Bollmann, Jingyuan Chen, Anna Devor, Jozien Goense, Daniel Gomez, Doug Greve, Faruk Gulban, Laurentius (Renzo) Huber, A. Tyler Morgan, David Norris*, Jonathan Polimeni, Robert Savoy, Kamil Uludag, Divya Varadarajan, Luca Vizioli
(*: remote lecturer)
Course Moderator: A. Tyler Morgan
Course Organizers: Jonathan Polimeni, Anna Blazejewska, Renzo Huber & Robert Savoy
Course webpage, lecture topics, and registration:https://education.martinos.org/workshop-on-laminar-fmri/
Registration closes September 17; the number of attendees is limited.
**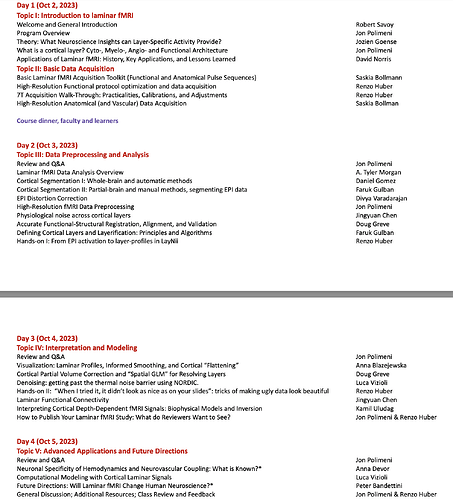 ** email us questions at laminarfmricourse@nmr.mgh.harvard.edu