Hi, AFNI experts,
I'm using AFNI proc.py and sswarper to preprocess an fMRI dataset. I found that the preprocessing quality is not very satisfactory, especially for older adults. I have attached an example of a participant who is 65 years old and displays noticeable atrophy and enlarged ventricles. The segmentation and normalization steps seem to fail in correctly extracting the lateral ventricles, and as a result, I observed strong yet peculiar activity in the CSF for my first-level results from a semantic task. I wonder if there are any special considerations I need to account for when preprocessing images of older adults, such as using an older adults atlas or adjusting specific parameters.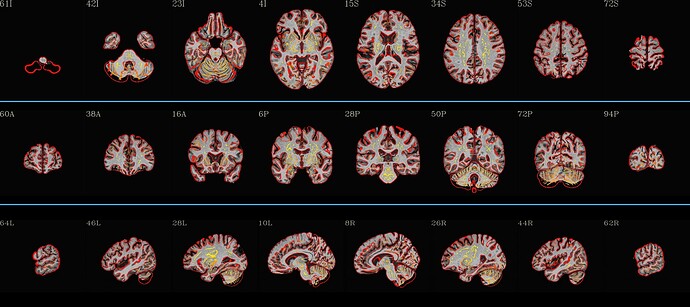 AFNI version info (afni -ver): Precompiled binary linux_openmp_64: Apr 9 2021 (Version AFNI_21.1.01 'Domitian')
I attached my afni proc_py script below.
SSwarper
/work/apps/AFNI/linux_openmp_64/@SSwarper -input /work/desai-lab/ABCAI/raw/sub-1024/anat/sub-1024_T1.nii - base MNI152_2009_template_SSW.nii.gz - subid sub-1024 - giant_move - deoblique - odir /work/desai-lab/ABCAI/raw/sub-1024/SSwarper


afni proc_py
#!/bin/tcsh
/work/apps/AFNI/linux_openmp_64/afni_proc.py -subj_id sub-1024 \
-scr_overwrite \
-copy_anat /work/desai-lab/ABCAI/raw/sub-1024/anat/sub-1024_T1.nii \
-anat_has_skull no \
-dsets /work/desai-lab/ABCAI/raw/sub-1024/func/sub-1024_fmri_task-Passage_raw.nii \
-blocks despike align tlrc volreg blur mask scale regress \
-radial_correlate_blocks tcat volreg \
-tcat_remove_first_trs 0 \
-align_opts_aea -cost lpc+ZZ \
-ginormous_move \
-resample off \
-deoblique on \
-check_flip \
-tlrc_base /work/apps/AFNI/linux_openmp_64/MNI152_2009_template_SSW.nii.gz \
-tlrc_NL_warp \
-tlrc_NL_warped_dsets /work/desai-lab/ABCAI/derivatives/sub-1024/sswarper/anatQQ.sub-1024.nii /work/desai-lab/ABCAI/derivatives/sub-1024/sswarper/anatQQ.sub-1024.aff12.1D /work/desai-lab/ABCAI/derivatives/sub-1024/sswarper/anatQQ.sub-1024_WARP.nii \
-volreg_align_to MIN_OUTLIER \
-volreg_align_e2a \
-volreg_tlrc_warp \
-mask_epi_anat yes \
-blur_size 6.0 \
-mask_segment_anat yes \
-regress_stim_times /work/desai-lab/ABCAI/raw/sub-1024/func/sub-1024_fmri_task-Passage_onset_passage.1D /work/desai-lab/ABCAI/raw/sub-1024/func/sub-1024_fmri_task-Passage_onset_foreign.1D \
-regress_stim_labels passage foreign \
-regress_opts_3dD -jobs 6 \
-gltsym 'SYM: passage[0] -foreign[0]' -glt_label 1 pass_NS \
-regress_basis WAV \
-regress_stim_types times \
-regress_ROI CSFe \
-regress_censor_motion 0.5 \
-regress_apply_mot_types demean deriv \
-regress_motion_per_run \
-regress_3dD_stop \
-regress_reml_exec \
-regress_compute_fitts \
-regress_make_ideal_sum sum_ideal.1D \
-regress_est_blur_epits \
-regress_est_blur_errts \
-regress_run_clustsim no \