AFNI version info (afni -ver):
22
I have preprocessed my data with fMRIprep added into AFNI for smoothing and scaling (mean BOLD signal is 100). ROI are a social brain mask from neurosynth.
I am interested in two main contrasts (full second-level code below)...
Brain differences during exclusion (exclusion block > equal play) between groups
interaction between groups and age during exclusion (exclusion block > equal play)
My model includes also scanner site (2 locations)
Are these the correct contrasts to identify brain differences between groups during exclusion vs. equal play (ignore the numbers as they are slightly different to the code below). My understanding is that the first "Olay" box should be the coefficient and the second "Thr" box should be the t-test? This is very different to SPM, so want to make sure I am doing this correctly?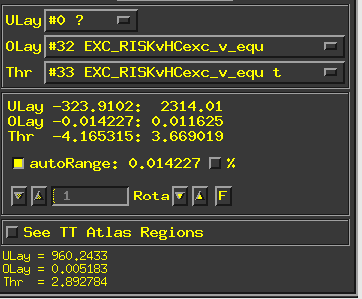 this is the correct contrast for the age x group comparison?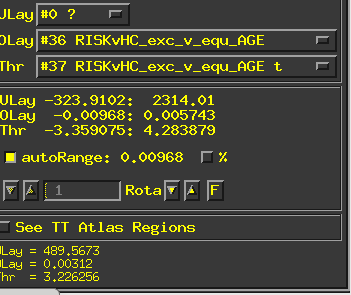 If I also ran a group-specific contrast of to better understand the interaction findings such as ...
group: 1*HC condition : 1*exclude -1*equal age :'    

Would an increased brain response be associated with increased age for this group? or the other way around?
I need to output the effect size for these contrasts. I specified -GES but don't understand how to output effect size for these contrasts? Could someone explain for a beginner where these values live in AFNI and how to output?
Full code below.
3dMVM -prefix mask_Oct_14_2023 \
    -bsVars "grp*age*site" \
    -mask '/work/06953/jes6785/atlas_masks/resample_bin_combine_soc_reward_2.nii.gz' \
    -wsVars "condition" \
    -qVars "age" \
    -qVarsCenters '18.4' \
    -GES \
    -num_glt 2 \
    -gltLabel 1 EXC_RISKvHC exc_v_equ  -gltCode 1 'grp : 1*RISK -1*HC condition : 1*exclude -1*equal'  \
    -gltLabel 2 RISKvHC_exc_v_equ_AGE  -gltCode 2 'grp : 1*RISK -1*HC condition : 1*exclude -1*equal age :'  \
   -dataTable      \
    Subj	grp	age	site	condition	InputFile  \
    a002	HC	18.4	UC	equal 	/scratch/06953/jes6785/SOBP/CYB_SOBP_SEPT_2023/level_1_output/stats.a002b+tlrc[4] \
    a004	HC	14.6	UC	equal		/scratch/06953/jes6785/SOBP/CYB_SOBP_SEPT_2023/level_1_output/stats.a004b+tlrc[4] \
    a042	HC	19	UC	equal		/scratch/06953/jes6785/SOBP/CYB_SOBP_SEPT_2023/level_1_output/stats.a042b+tlrc[4] \
    a116	HC	20.5	UC	equal 	/scratch/06953/jes6785/SOBP/CYB_SOBP_SEPT_2023/level_1_output/stats.a116b+tlrc[4] \
    a130	HC	19.8	UC	equal		/scratch/06953/jes6785/SOBP/CYB_SOBP_SEPT_2023/level_1_output/stats.a130b+tlrc[4] \
    a134	HC	18.4	UC	equal		/scratch/06953/jes6785/SOBP/CYB_SOBP_SEPT_2023/level_1_output/stats.a134b+tlrc[4] \
    a146	HC	15.8	UC	equal		/scratch/06953/jes6785/SOBP/CYB_SOBP_SEPT_2023/level_1_output/stats.a146b+tlrc[4] \
    b010	HC	18.3	UC	equal 	/scratch/06953/jes6785/SOBP/CYB_SOBP_SEPT_2023/level_1_output/stats.b010b+tlrc[4] \
    b100	HC	20.2	UC	equal 	/scratch/06953/jes6785/SOBP/CYB_SOBP_SEPT_2023/level_1_output/stats.b100b+tlrc[4] \
    b132	HC	15.2	UC	equal 	/scratch/06953/jes6785/SOBP/CYB_SOBP_SEPT_2023/level_1_output/stats.b132b+tlrc[4] \
    b140	HC	20.3	UC	equal		/scratch/06953/jes6785/SOBP/CYB_SOBP_SEPT_2023/level_1_output/stats.b140b+tlrc[4] \
    a030	RISK	16.4	UC	equal		/scratch/06953/jes6785/SOBP/CYB_SOBP_SEPT_2023/level_1_output/stats.a030b+tlrc[4] \
    a032	RISK	14.9	UC	equal 	/scratch/06953/jes6785/SOBP/CYB_SOBP_SEPT_2023/level_1_output/stats.a032b+tlrc[4] \
    a034	RISK	14.2	UC	equal		/scratch/06953/jes6785/SOBP/CYB_SOBP_SEPT_2023/level_1_output/stats.a034b+tlrc[4] \
    a052	RISK	15.8	UC	equal		/scratch/06953/jes6785/SOBP/CYB_SOBP_SEPT_2023/level_1_output/stats.a052b+tlrc[4] \
    a058	RISK	17.7	UC	equal 	/scratch/06953/jes6785/SOBP/CYB_SOBP_SEPT_2023/level_1_output/stats.a058b+tlrc[4] \
    a060	RISK	16	UC	equal		/scratch/06953/jes6785/SOBP/CYB_SOBP_SEPT_2023/level_1_output/stats.a060b+tlrc[4] \
    b014	RISK	14.4	UC	equal		/scratch/06953/jes6785/SOBP/CYB_SOBP_SEPT_2023/level_1_output/stats.b014b+tlrc[4] \
    b022	RISK	15.4	UC	equal 	/scratch/06953/jes6785/SOBP/CYB_SOBP_SEPT_2023/level_1_output/stats.b022b+tlrc[4] \
    b048	RISK	18.2	UC	equal 	/scratch/06953/jes6785/SOBP/CYB_SOBP_SEPT_2023/level_1_output/stats.b048b+tlrc[4] \
    b054	RISK	17.8	UC	equal		/scratch/06953/jes6785/SOBP/CYB_SOBP_SEPT_2023/level_1_output/stats.b054b+tlrc[4] \
    b074	RISK	19.5	UC	equal 	/scratch/06953/jes6785/SOBP/CYB_SOBP_SEPT_2023/level_1_output/stats.b074b+tlrc[4] \
    b144	RISK	19.6	UC	equal		/scratch/06953/jes6785/SOBP/CYB_SOBP_SEPT_2023/level_1_output/stats.b144b+tlrc[4] \
    b148	RISK	14.7	UC	equal 	/scratch/06953/jes6785/SOBP/CYB_SOBP_SEPT_2023/level_1_output/stats.b148b+tlrc[4] \
    b150	RISK	17.5	UC	equal 	/scratch/06953/jes6785/SOBP/CYB_SOBP_SEPT_2023/level_1_output/stats.b150b+tlrc[4] \
    b154	RISK	17.2	UC	equal		/scratch/06953/jes6785/SOBP/CYB_SOBP_SEPT_2023/level_1_output/stats.b154b+tlrc[4] \
    a001	HC	21.1	UT	equal		/scratch/06953/jes6785/SOBP/CYB_SOBP_SEPT_2023/level_1_output/stats.a001+tlrc[4] \
    a017	HC	21.5	UT	equal 	/scratch/06953/jes6785/SOBP/CYB_SOBP_SEPT_2023/level_1_output/stats.a017+tlrc[4] \
    a025	HC	18.9	UT	equal 	/scratch/06953/jes6785/SOBP/CYB_SOBP_SEPT_2023/level_1_output/stats.a025+tlrc[4] \
    a045	HC	18.5	UT	equal 	/scratch/06953/jes6785/SOBP/CYB_SOBP_SEPT_2023/level_1_output/stats.a045+tlrc[4] \
    a101	HC	20.5	UT	equal 	/scratch/06953/jes6785/SOBP/CYB_SOBP_SEPT_2023/level_1_output/stats.a101+tlrc[4] \
    a105	HC	20.9	UT	equal		/scratch/06953/jes6785/SOBP/CYB_SOBP_SEPT_2023/level_1_output/stats.a105+tlrc[4] \
    a119	HC	19.8	UT	equal		/scratch/06953/jes6785/SOBP/CYB_SOBP_SEPT_2023/level_1_output/stats.a119+tlrc[4] \
    a129	HC	20.9	UT	equal 	/scratch/06953/jes6785/SOBP/CYB_SOBP_SEPT_2023/level_1_output/stats.a129+tlrc[4] \
    a131	HC	20.7	UT	equal 	/scratch/06953/jes6785/SOBP/CYB_SOBP_SEPT_2023/level_1_output/stats.a131+tlrc[4] \
    a145	HC	21.3	UT	equal 	/scratch/06953/jes6785/SOBP/CYB_SOBP_SEPT_2023/level_1_output/stats.a145+tlrc[4] \
    b007	HC	21.9	UT	equal 	/scratch/06953/jes6785/SOBP/CYB_SOBP_SEPT_2023/level_1_output/stats.b007+tlrc[4] \
    b009	HC	18.8	UT	equal		/scratch/06953/jes6785/SOBP/CYB_SOBP_SEPT_2023/level_1_output/stats.b009+tlrc[4] \
    b117	HC	18.6	UT	equal 	/scratch/06953/jes6785/SOBP/CYB_SOBP_SEPT_2023/level_1_output/stats.b117+tlrc[4] \
    b149	HC	14	UT	equal		/scratch/06953/jes6785/SOBP/CYB_SOBP_SEPT_2023/level_1_output/stats.b149+tlrc[4] \
    b161	HC	19.7	UT	equal		/scratch/06953/jes6785/SOBP/CYB_SOBP_SEPT_2023/level_1_output/stats.b161+tlrc[4] \
    b163	HC	20.7	UT	equal 	/scratch/06953/jes6785/SOBP/CYB_SOBP_SEPT_2023/level_1_output/stats.b163+tlrc[4] \
    b165	HC	20.5	UT	equal		/scratch/06953/jes6785/SOBP/CYB_SOBP_SEPT_2023/level_1_output/stats.b165+tlrc[4] \
    b167	HC	21.1	UT	equal 	/scratch/06953/jes6785/SOBP/CYB_SOBP_SEPT_2023/level_1_output/stats.b167+tlrc[4] \
    b173	HC	21.7	UT	equal		/scratch/06953/jes6785/SOBP/CYB_SOBP_SEPT_2023/level_1_output/stats.b173+tlrc[4] \
    a041	RISK	20	UT	equal 	/scratch/06953/jes6785/SOBP/CYB_SOBP_SEPT_2023/level_1_output/stats.a041+tlrc[4] \
    a073	RISK	19.7	UT	equal 	/scratch/06953/jes6785/SOBP/CYB_SOBP_SEPT_2023/level_1_output/stats.a073+tlrc[4] \
    a087	RISK	19.2	UT	equal		/scratch/06953/jes6785/SOBP/CYB_SOBP_SEPT_2023/level_1_output/stats.a087+tlrc[4] \
    a135	RISK	17.3	UT	equal 	/scratch/06953/jes6785/SOBP/CYB_SOBP_SEPT_2023/level_1_output/stats.a135+tlrc[4] \
    a141	RISK	17.7	UT	equal		/scratch/06953/jes6785/SOBP/CYB_SOBP_SEPT_2023/level_1_output/stats.a141+tlrc[4] \
    a147	RISK	18.9	UT	equal 	/scratch/06953/jes6785/SOBP/CYB_SOBP_SEPT_2023/level_1_output/stats.a147+tlrc[4] \
    a153	RISK	19	UT	equal		/scratch/06953/jes6785/SOBP/CYB_SOBP_SEPT_2023/level_1_output/stats.a153+tlrc[4] \
    b029	RISK	18.8	UT	equal		/scratch/06953/jes6785/SOBP/CYB_SOBP_SEPT_2023/level_1_output/stats.b029+tlrc[4] \
    b065	RISK	17.2	UT	equal 	/scratch/06953/jes6785/SOBP/CYB_SOBP_SEPT_2023/level_1_output/stats.b065+tlrc[4] \
    b071	RISK	20.3	UT	equal		/scratch/06953/jes6785/SOBP/CYB_SOBP_SEPT_2023/level_1_output/stats.b071+tlrc[4] \
    b075	RISK	19.9	UT	equal		/scratch/06953/jes6785/SOBP/CYB_SOBP_SEPT_2023/level_1_output/stats.b075+tlrc[4] \
    b083	RISK	14.3	UT	equal 	/scratch/06953/jes6785/SOBP/CYB_SOBP_SEPT_2023/level_1_output/stats.b083+tlrc[4] \
    b095	RISK	18.6	UT	equal		/scratch/06953/jes6785/SOBP/CYB_SOBP_SEPT_2023/level_1_output/stats.b095+tlrc[4] \
    b103	RISK	19.7	UT	equal		/scratch/06953/jes6785/SOBP/CYB_SOBP_SEPT_2023/level_1_output/stats.b103+tlrc[4] \
    b123	RISK	20.5	UT	equal		/scratch/06953/jes6785/SOBP/CYB_SOBP_SEPT_2023/level_1_output/stats.b123+tlrc[4] \
    b143	RISK	14.1	UT	equal 	/scratch/06953/jes6785/SOBP/CYB_SOBP_SEPT_2023/level_1_output/stats.b143+tlrc[4] \
    b155	RISK	17.3	UT	equal 	/scratch/06953/jes6785/SOBP/CYB_SOBP_SEPT_2023/level_1_output/stats.b155+tlrc[4] \
    a002	HC	18.4	UC	exclude 	/scratch/06953/jes6785/SOBP/CYB_SOBP_SEPT_2023/level_1_output/stats.a002b+tlrc[10] \
    a004	HC	14.6	UC	exclude		/scratch/06953/jes6785/SOBP/CYB_SOBP_SEPT_2023/level_1_output/stats.a004b+tlrc[10] \
    a042	HC	19	UC	exclude		/scratch/06953/jes6785/SOBP/CYB_SOBP_SEPT_2023/level_1_output/stats.a042b+tlrc[10] \
    a116	HC	20.5	UC	exclude 	/scratch/06953/jes6785/SOBP/CYB_SOBP_SEPT_2023/level_1_output/stats.a116b+tlrc[10] \
    a130	HC	19.8	UC	exclude		/scratch/06953/jes6785/SOBP/CYB_SOBP_SEPT_2023/level_1_output/stats.a130b+tlrc[10] \
    a134	HC	18.4	UC	exclude		/scratch/06953/jes6785/SOBP/CYB_SOBP_SEPT_2023/level_1_output/stats.a134b+tlrc[10] \
    a146	HC	15.8	UC	exclude		/scratch/06953/jes6785/SOBP/CYB_SOBP_SEPT_2023/level_1_output/stats.a146b+tlrc[10] \
    b010	HC	18.3	UC	exclude 	/scratch/06953/jes6785/SOBP/CYB_SOBP_SEPT_2023/level_1_output/stats.b010b+tlrc[10] \
    b100	HC	20.2	UC	exclude 	/scratch/06953/jes6785/SOBP/CYB_SOBP_SEPT_2023/level_1_output/stats.b100b+tlrc[10] \
    b132	HC	15.2	UC	exclude 	/scratch/06953/jes6785/SOBP/CYB_SOBP_SEPT_2023/level_1_output/stats.b132b+tlrc[10] \
    b140	HC	20.3	UC	exclude		/scratch/06953/jes6785/SOBP/CYB_SOBP_SEPT_2023/level_1_output/stats.b140b+tlrc[10] \
    a030	RISK	16.4	UC	exclude		/scratch/06953/jes6785/SOBP/CYB_SOBP_SEPT_2023/level_1_output/stats.a030b+tlrc[10] \
    a032	RISK	14.9	UC	exclude 	/scratch/06953/jes6785/SOBP/CYB_SOBP_SEPT_2023/level_1_output/stats.a032b+tlrc[10] \
    a034	RISK	14.2	UC	exclude		/scratch/06953/jes6785/SOBP/CYB_SOBP_SEPT_2023/level_1_output/stats.a034b+tlrc[10] \
    a052	RISK	15.8	UC	exclude		/scratch/06953/jes6785/SOBP/CYB_SOBP_SEPT_2023/level_1_output/stats.a052b+tlrc[10] \
    a058	RISK	17.7	UC	exclude 	/scratch/06953/jes6785/SOBP/CYB_SOBP_SEPT_2023/level_1_output/stats.a058b+tlrc[10] \
    a060	RISK	16	UC	exclude		/scratch/06953/jes6785/SOBP/CYB_SOBP_SEPT_2023/level_1_output/stats.a060b+tlrc[10] \
    b014	RISK	14.4	UC	exclude		/scratch/06953/jes6785/SOBP/CYB_SOBP_SEPT_2023/level_1_output/stats.b014b+tlrc[10] \
    b022	RISK	15.4	UC	exclude 	/scratch/06953/jes6785/SOBP/CYB_SOBP_SEPT_2023/level_1_output/stats.b022b+tlrc[10] \
    b048	RISK	18.2	UC	exclude 	/scratch/06953/jes6785/SOBP/CYB_SOBP_SEPT_2023/level_1_output/stats.b048b+tlrc[10] \
    b054	RISK	17.8	UC	exclude		/scratch/06953/jes6785/SOBP/CYB_SOBP_SEPT_2023/level_1_output/stats.b054b+tlrc[10] \
    b074	RISK	19.5	UC	exclude 	/scratch/06953/jes6785/SOBP/CYB_SOBP_SEPT_2023/level_1_output/stats.b074b+tlrc[10] \
    b144	RISK	19.6	UC	exclude		/scratch/06953/jes6785/SOBP/CYB_SOBP_SEPT_2023/level_1_output/stats.b144b+tlrc[10] \
    b148	RISK	14.7	UC	exclude 	/scratch/06953/jes6785/SOBP/CYB_SOBP_SEPT_2023/level_1_output/stats.b148b+tlrc[10] \
    b150	RISK	17.5	UC	exclude 	/scratch/06953/jes6785/SOBP/CYB_SOBP_SEPT_2023/level_1_output/stats.b150b+tlrc[10] \
    b154	RISK	17.2	UC	exclude		/scratch/06953/jes6785/SOBP/CYB_SOBP_SEPT_2023/level_1_output/stats.b154b+tlrc[10] \
    a001	HC	21.1	UT	exclude		/scratch/06953/jes6785/SOBP/CYB_SOBP_SEPT_2023/level_1_output/stats.a001+tlrc[10] \
    a017	HC	21.5	UT	exclude 	/scratch/06953/jes6785/SOBP/CYB_SOBP_SEPT_2023/level_1_output/stats.a017+tlrc[10] \
    a025	HC	18.9	UT	exclude 	/scratch/06953/jes6785/SOBP/CYB_SOBP_SEPT_2023/level_1_output/stats.a025+tlrc[10] \
    a045	HC	18.5	UT	exclude 	/scratch/06953/jes6785/SOBP/CYB_SOBP_SEPT_2023/level_1_output/stats.a045+tlrc[10] \
    a101	HC	20.5	UT	exclude 	/scratch/06953/jes6785/SOBP/CYB_SOBP_SEPT_2023/level_1_output/stats.a101+tlrc[10] \
    a105	HC	20.9	UT	exclude		/scratch/06953/jes6785/SOBP/CYB_SOBP_SEPT_2023/level_1_output/stats.a105+tlrc[10] \
    a119	HC	19.8	UT	exclude		/scratch/06953/jes6785/SOBP/CYB_SOBP_SEPT_2023/level_1_output/stats.a119+tlrc[10] \
    a129	HC	20.9	UT	exclude 	/scratch/06953/jes6785/SOBP/CYB_SOBP_SEPT_2023/level_1_output/stats.a129+tlrc[10] \
    a131	HC	20.7	UT	exclude 	/scratch/06953/jes6785/SOBP/CYB_SOBP_SEPT_2023/level_1_output/stats.a131+tlrc[10] \
    a145	HC	21.3	UT	exclude 	/scratch/06953/jes6785/SOBP/CYB_SOBP_SEPT_2023/level_1_output/stats.a145+tlrc[10] \
    b007	HC	21.9	UT	exclude 	/scratch/06953/jes6785/SOBP/CYB_SOBP_SEPT_2023/level_1_output/stats.b007+tlrc[10] \
    b009	HC	18.8	UT	exclude		/scratch/06953/jes6785/SOBP/CYB_SOBP_SEPT_2023/level_1_output/stats.b009+tlrc[10] \
    b117	HC	18.6	UT	exclude 	/scratch/06953/jes6785/SOBP/CYB_SOBP_SEPT_2023/level_1_output/stats.b117+tlrc[10] \
    b149	HC	14	UT	exclude		/scratch/06953/jes6785/SOBP/CYB_SOBP_SEPT_2023/level_1_output/stats.b149+tlrc[10] \
    b161	HC	19.7	UT	exclude		/scratch/06953/jes6785/SOBP/CYB_SOBP_SEPT_2023/level_1_output/stats.b161+tlrc[10] \
    b163	HC	20.7	UT	exclude 	/scratch/06953/jes6785/SOBP/CYB_SOBP_SEPT_2023/level_1_output/stats.b163+tlrc[10] \
    b165	HC	20.5	UT	exclude		/scratch/06953/jes6785/SOBP/CYB_SOBP_SEPT_2023/level_1_output/stats.b165+tlrc[10] \
    b167	HC	21.1	UT	exclude 	/scratch/06953/jes6785/SOBP/CYB_SOBP_SEPT_2023/level_1_output/stats.b167+tlrc[10] \
    b173	HC	21.7	UT	exclude		/scratch/06953/jes6785/SOBP/CYB_SOBP_SEPT_2023/level_1_output/stats.b173+tlrc[10] \
    a041	RISK	20	UT	exclude 	/scratch/06953/jes6785/SOBP/CYB_SOBP_SEPT_2023/level_1_output/stats.a041+tlrc[10] \
    a073	RISK	19.7	UT	exclude 	/scratch/06953/jes6785/SOBP/CYB_SOBP_SEPT_2023/level_1_output/stats.a073+tlrc[10] \
    a087	RISK	19.2	UT	exclude		/scratch/06953/jes6785/SOBP/CYB_SOBP_SEPT_2023/level_1_output/stats.a087+tlrc[10] \
    a135	RISK	17.3	UT	exclude 	/scratch/06953/jes6785/SOBP/CYB_SOBP_SEPT_2023/level_1_output/stats.a135+tlrc[10] \
    a141	RISK	17.7	UT	exclude		/scratch/06953/jes6785/SOBP/CYB_SOBP_SEPT_2023/level_1_output/stats.a141+tlrc[10] \
    a147	RISK	18.9	UT	exclude 	/scratch/06953/jes6785/SOBP/CYB_SOBP_SEPT_2023/level_1_output/stats.a147+tlrc[10] \
    a153	RISK	19	UT	exclude		/scratch/06953/jes6785/SOBP/CYB_SOBP_SEPT_2023/level_1_output/stats.a153+tlrc[10] \
    b029	RISK	18.8	UT	exclude		/scratch/06953/jes6785/SOBP/CYB_SOBP_SEPT_2023/level_1_output/stats.b029+tlrc[10] \
    b065	RISK	17.2	UT	exclude 	/scratch/06953/jes6785/SOBP/CYB_SOBP_SEPT_2023/level_1_output/stats.b065+tlrc[10] \
    b071	RISK	20.3	UT	exclude		/scratch/06953/jes6785/SOBP/CYB_SOBP_SEPT_2023/level_1_output/stats.b071+tlrc[10] \
    b075	RISK	19.9	UT	exclude		/scratch/06953/jes6785/SOBP/CYB_SOBP_SEPT_2023/level_1_output/stats.b075+tlrc[10] \
    b083	RISK	14.3	UT	exclude 	/scratch/06953/jes6785/SOBP/CYB_SOBP_SEPT_2023/level_1_output/stats.b083+tlrc[10] \
    b095	RISK	18.6	UT	exclude		/scratch/06953/jes6785/SOBP/CYB_SOBP_SEPT_2023/level_1_output/stats.b095+tlrc[10] \
    b103	RISK	19.7	UT	exclude		/scratch/06953/jes6785/SOBP/CYB_SOBP_SEPT_2023/level_1_output/stats.b103+tlrc[10] \
    b123	RISK	20.5	UT	exclude		/scratch/06953/jes6785/SOBP/CYB_SOBP_SEPT_2023/level_1_output/stats.b123+tlrc[10] \
    b143	RISK	14.1	UT	exclude 	/scratch/06953/jes6785/SOBP/CYB_SOBP_SEPT_2023/level_1_output/stats.b143+tlrc[10] \
    b155	RISK	17.3	UT	exclude 	/scratch/06953/jes6785/SOBP/CYB_SOBP_SEPT_2023/level_1_output/stats.b155+tlrc[10]