Hi there!
Two questions about chauffeur_afni:
Is there a way to generate .nii.gz images using @chauffeur_afni? I'm generating some transparent brain maps using the highlight-but-don't hide approach (thresholded at p < .001 the code below, sub-threshold voxels show up as translucent voxels - see attached figure and code below) and it'll be nice if I can get the same images in two formats - (1) the usual output of chauffeur_afni (axial/saggital/coronal slices' images) and (2) as an .nii.gz image. With a .nii.gz file, I am hoping to also plot this mao on a brain surface using nilearn's surface plot functions.

Is there a way to add the colorbar limits (max/min values) to the colorbar.png file that gets saved using -pbar_saveim? Also, if I want the extremes of the colorbars to be -x and x, is this the way to define this: -func_range x ?
AFNI version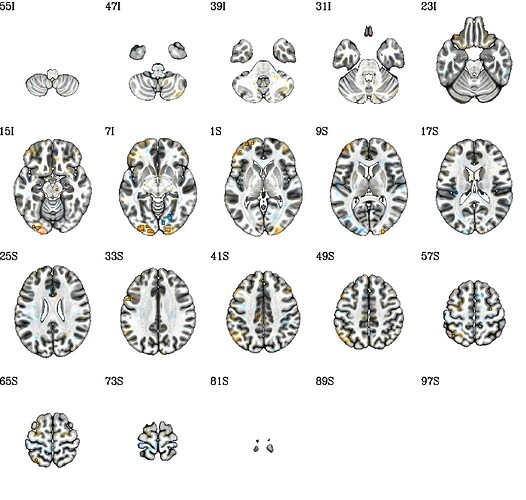 : 23.0.04
@chauffeur_afni                                                 \
    -ulay               ${ulay}                                 \
    -olay               ${olay}                                 \
    -cbar               Reds_and_Blues_Inv                      \
    -set_subbricks      ${ulay_subbrik} ${olay_subbrik} ${thr_subbrik} \
    -thr_olay_p2stat    0.001                                   \
    -thr_olay_pside     bisided                                 \
    -olay_alpha         Yes                                     \
    -olay_boxed         Yes                                     \
    -opacity            7                                       \
    -prefix             ${outfile}                              \
    -save_ftype         "PNG"                                   \
    -pbar_saveim        ${outdir}/cbar_unc_${dv}.png            \
    -delta_slices       8 10 8                                  \
    -montx              5                                       \
    -monty              4                                       \
    -set_xhairs         OFF                                     \
    -zerocolor          white                                   \
    -label_color        black                                   \
    -label_mode         1                                       \
    -label_size         4

Thanks in advance,
Rekha