Hi everyone!
We're running 3dttest+ for our one-sample and have a sample size of 9. We have a 5mm ROI in the right anterior insula (we're looking at salience network- whole brain functional connectivity). Our within group analyses output file only shows a larger voxel cluster (700+ voxels) in the right anterior insula, and much smaller voxel cluster (200 clusters) in another area.
We aren't sure if these smaller clusters would survive cluster correction.
Since we're only seeing a significant cluster in the ROI area, are we doing something incorrectly?Or are we interpreting the output incorrectly? Or Is this a power problem where we dont have a large enough sample size to see significance in more clusters?
All and any advice is appreciated! Its conference season and we're running into this right before abstract deadlines :)
Thanks!
-Mit & Hector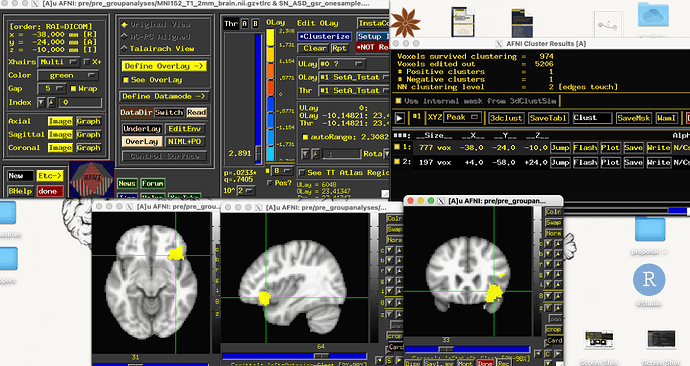 AFNI version info (afni -ver):
code text  # or delete if not needed